Community Spotlight: Weis Markets
Celebrating an Exceptional Employer
You may know there are over 200 Weis Markets throughout New England, employing over 19,000 associates. You might also know it's a growing brand, associated with quality products and exceptional service.

But what you might not know about Weis Markets is that it's family – literally. Harry Weis founded the enterprise in 1912 and his grandson, Johnathon, still runs the company. Family is the root of the Weis Markets story and it doesn't stop there; throughout the many regions and stores, management staff actively foster a feeling of family and engagement in the local community.
Thanks to that initiative, multiple PDG consumers have found supportive and meaningful employment with Weis Markets in positions like stocking, receiving, and more. As their website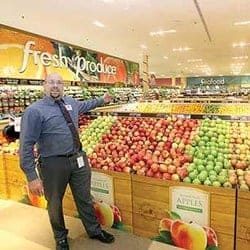 states, "Weis Markets' associates make up a diverse and talented group… focused on collaboration and growth."
One consumer, B., works as a courtesy clerk in a Baltimore area Weis Markets. When asked about his co-workers and managers, B. said that "they are very nice," and "the store is really cool."
Too often, employers are put off by the idea of accommodating those with disabilities, making it difficult to find consumers the right match for their abilities and interests. "Sometimes," B. told his PDG vocational specialist, "I have a hard time keeping up with what they're saying [at work] and I get kind of nervous."
These kinds of challenges don't deter the Weis family. Weis managers work closely with PDG staff to develop appropriate training and facilitate long-term success for consumers like B..
"They're fair," B. reported, "they always greet me when I come in, and they're helpful." B. recently celebrated his first year of employment at Weis and plans to stay with them for many years to come.

Thanks to the dedicated and diverse Weis Markets family, our community is richer and our consumers more independent. PDG looks forward to a lasting, positive future together with this exceptional employer.
Thank you Weis Markets!