Keeping Cool This Summer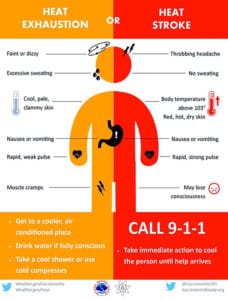 This month has seen skyrocketing temperatures and the rest of the summer is no different. Next week is expected to hover around 90° F and next weekend will ramp up to the high 90s. For those without housing and air conditioning, temperatures like these can be deadly.
This summer, watch out for heat exhaustion and drink plenty of water. Stay inside when possible, keep a close eye on children and the elderly, and never leave an animal in a parked car. Please help by noting the cooling centers in your area and sharing these resources with those who are most at risk:
Anne Arundel County
A recent AACo press release stated: "Anne Arundel County will open cooling centers Wednesday, July 19 through Sunday, July 23 in response to expected extreme heat, humidity, and poor air quality conditions over the next several days. Temperatures are forecast to be in the mid-90s with oppressive humidity, creating heat index values in excess of 105 degrees."
Most libraries and senior centers will be open during this time. For a complete list, visit the Office of Transportation site here. You can also contact Chrissy Calp at 410-222-0605 or emcalp00@aacounty.org.
Baltimore City
Baltimore City Health Commissioner Dr. Leana Wen has also issued a "Code Red" alert for extreme temperatures this coming weekend. Baltimore also offers cooling centers located at community and senior centers throughout the city. For a complete list of addresses, visit the Baltimore city site here.
Greater Maryland
For more information on cooling centers in your county, call your contact listed on the cooling center directory.