Mental Health Care in Crisis
Keeping the Door Open
In the 1930s – less than ninety years ago – most severe mental illnesses were treated with electroshock therapy and lobotomies. Since then, scientists and providers have advanced beyond those methods to develop more effective recovery and treatment processes for illnesses like bipolar disorder, schizophrenia, and depression.
The fight is not over, however; housing, medication, fluctuating health care, criminal backgrounds, and unstable support systems can mean the difference between life and death. Maryland still struggles with many of these problems; how to treat those with severe mental illnesses in jail was a controversial topic just last year.  
Most recently, the low pay rates for behavioral health organizations have threatened community-based recovery with the long term effects of lower quality providers, poor service, and fewer options for those in crisis. These hurdles lead to more ER visits and hospitalizations, straining the economy and greater health care system.
"We're dealing with a serious crisis and we need to kick it up a notch," said Senator Guzzone (Maryland District 13) after submitting the "Keep the Door Open Act" to the state house and senate this February. Senator Guzzone's legislation corrects provider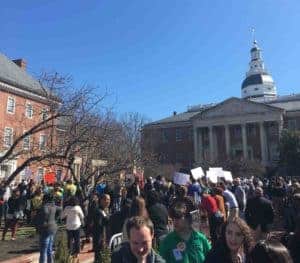 pay rates and allows continued access to quality mental health care for those who need it most.
PDG staff and consumers feel the importance of this legislation keenly. It is changes like these that allow our effective, community services to continue facilitating the recovery of Maryland residents. On February 23rd, PDG consumers joined hundreds at the Keep the Door Open Rally in support of Guzzone's bill. The rally, organized by Maryland's Behavioral Health Coalition, brought together dozens of nongovernmental organizations interested in maintaining mental health care excellence.
"It was an absolutely beautiful day," PDG clinician Allison Jensen noted; "The clients had a great time." PDG consumers heard speakers from Catholic Charities, Pascal, Pathways, Cornerstone, and other organizations address the ongoing need for appropriate compensation for behavioral health providers in Maryland.
The rally was not in vain; on March 17th, the Maryland Senate unanimously passed the "Keep the Door Open Act". Dan Martin, Director of Public Policy for the Mental Health Association of Maryland, stated, "Once again the Maryland Senate has taken a strong step to increase access to critical mental health and substance use disorder treatment."
Next step: the House. The bill is still currently under review by the Health and Government Operations Committee, and once passed, it will still need to be reconciled with the Senate version. Last year this bill passed in both arenas but didn't make it to fruition before the end of the General Assembly session.
With every step farther away from 1930s behavioral health care, we come closer to effective, considerate treatment options in our community. Let's work together to #KeeptheDoorOpenMd.