PDGRS provides a full continuum of vocational rehabilitation services to individuals with disabilities, with a particular focus on those with severe and persistent mental illness.
Our specialized vocational staff provides workforce reentry training with:
Job development and application assistance
Interview and interpersonal skills
On-site coaching and job retention
Evidence-based supported employment services
PDG's vocational programs are designed to transform individuals from consumers of government services into economically self-sufficient and tax paying citizens.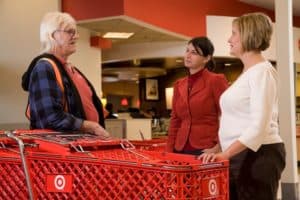 PDG consumers are coached to understand the meaning, necessity, and demands of work. Our staff motivates and helps consumers reach their highest levels of productivity, independence, and inclusion in their communities. PDGRS believes in the recovery model, which values employment as a means of becoming empowered, fostering hope, and developing self esteem. Achieving vocational goals helps to break the cycle of preoccupation with one's illness, and engage in meaningful life activities.
What is the Evidence-based Practice: Supported Employment Program (EBP-SEP)?
PDG Rehabilitation Services is an Evidence-Based Practice Supported Employment Program provider.  It was designed to provide evidence-based services to the severely mentally ill population.  Employment searches for consumers are based on his or her strengths and interests, and allow for SEP services to be integrated into the consumer's psychiatric treatment and rehabilitation.
Who pays for this program?
Funding comes from the Maryland Department of Health and Mental Hygiene and the Division of Rehabilitation Services. Services are provided at no cost to consumers.
Who can make referrals to the Supported Employment Program?
Referrals for the Supported Employment Program come from a wide variety of sources. Referrals can come from a therapist, psychiatrist, psychologist, substance abuse counselor, DORS counselor, family member, community resource center, or directly from the individual! If qualifying documentation is provided or can be obtained, PDG can provide services. The referral process is quick and easy. The referral form is only one page, which can be found in the referral section of this website.
What are the qualifying criteria for the Supported Employment Program?
A mental health diagnosis that is severe and persistent, as well as the desire to work!  The individual must be connected to a mental health care provider to qualify for services, as a recent, accurate mental health diagnosis is required to qualify for Supported Employment Services. The mental illness must be the primary diagnosis; however, PDG also works with individuals who are diagnosed with co-occurring disorders.
What is the Division of Rehabilitation Services (DORS)?
The Division of Rehabilitation Services [DORS] is Maryland's State Vocational Rehabilitation Agency. DORS will connect you to resources and provide funding for much needed services and materials, ranging from Supported Employment and Job Coaching Services to clothing and transportation services. DORS can also perform Career Assessments to assist you in identifying your strengths and skills, as well as aptitudes for employment. DORS counselors provide a wealth of knowledge and resources which we will use to assist you in obtaining competitive employment in the community.
Do you have a job you can give me?
No. PDG Rehabilitation Services is not a staffing agency. The goal of the Supported Employment Program is to obtain competitive employment in the individual's local community in a position/field in which s/he expresses an interest. PDG staff will assist individuals with identifying strengths and interests, searching employment opportunities, and applying for positions for which anyone, anywhere can apply.
How long will it take for me to become employed?
The timeline is different for everyone and depends on many factors. PDG Rehabilitation Services tailors its services to the abilities and skills of each individual. For example, if an individual is unable to use a computer to search and apply for employment, our staff will help with online applications, as well as teach the computer skills necessary for the individual to apply independently. The individual and staff person work together as a team to find appropriate employment. This path to gainful employment is made shorter the more individual actively participates and the fewer requirements the individual has for their job search.
How long will your services continue after I become employed?
PDG Rehabilitation Services will continue to work with individuals for as long as necessary. The service is not time limited and can be a lifelong service. The program is voluntary and can be ended at any time; however PDG Rehabilitation Services Staff will encourage individuals to continue to utilize the service for as long as is needed, as unexpected issues may arise after obtaining employment and PDG staff can assist in resolving these issues.
What are the requirements of the Supported Employment Program?
The main requirement is that individuals must express an interest in or a desire to work and maintain employment. We require that individuals enroll in DORS services as they provide funding for our program and are a valuable vocational resource we will utilize frequently. Our staff is more than willing to assist in connecting people to this resource.
How are Supported Employment Services provided?
Supported Employment Services are provided in the community. It is never required that consumers visit our offices. PDG staff will work with consumers in the community and utilize readily available resources, such as public libraries and One Stop Career Centers, which are located nationwide. Once employed, services will continue. Consumers have the option of job coaching services being provided on or off-site. On-site services, which each consumer determines individually based on their needs and barriers, can include contact with supervisors, assistance with on-the-job training, and conflict resolution/mediation on the job. Similar services can be provided off-site, although these require a more active role on the part of the consumer, as the role of the staff person will be more passive when services are provided off-site.
What other vocational rehabilitation programs does PDG Rehabilitation Services offer?
PDG Rehabilitation also offers Employment Assistance, Retention and Job Coaching programs. These services are designed for consumers who are ready for employment, but require assistance with the application process, formulating resumes and honing interviewing skills. Once employed, PDG staff will work with the consumer for 90 days during the most critical adjustment period to aid consumers in extending job retention.