Year in Review
Partnership Development Group saw another eventful year. With services expanding, new talent hired, and regular quality checks, our services have never been better! Take a look at what 2017 meant for PDG:
SERVICE EXPANSION
Psychiatric Rehabilitation Program Directors Kristi Lee Sheffler and Mary Beth Welkos worked double time to serve up two Thanksgiving meals this year (in Baltimore and Glen Burnie), meaning more consumers ate a home-cooked hot meal around the holidays.
PRP Day Program also got a boost with a brand new PDG van, allowing the program to now operate four days out of the week for both Millersville and Baltimore locations.
In addition, PDG Therapeutics significantly grew in size, increased its hours, and expanded to serve Baltimore city as well.
NEW PROGRAMS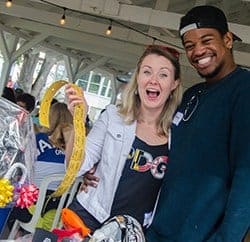 Our very own Miranda DeMers became a certified SMART Recovery Facilitator and PDG began offering SMART Recovery sessions to provide the support and resources necessary to manage addiction.
Vocational Director Samantha Cole spearheaded the introduction of PDG Job Fairs, available to consumers and attended by local organizations looking to hire a more diverse workforce.
STAFF GROWTH
Two mid-level management positions were created, opening up new growth options for current staff. In addition, official staff social outings were started in 2017, increasing work satisfaction and networking.
PDG ramped up its recruitment efforts in 2017, focusing on career fairs and college campuses to vet and hire the most qualified and prepared direct care staff.
For the second time in a row, PDG earned the Top Workplace Award from The Baltimore Sun, moving up in ranking from #46 to #18.
COMMUNITY SUPPORT
The 6th Annual Crab Feast our most successful yet! Through increased sponsorships from businesses in our community, more proceeds than ever went to supporting the non-profit vocational rehabilitation program.
Psychiatric Rehabilitation Directors also organized our most successful Holiday Food Drive so far, with 58 baskets delivered to needy families the week before Christmas.
PDG staff and consumers attended 2017's Keep the Door Open Rally to advocate for increased access to behavioral healthcare for those who need it.
PDG partnered with local organizations like Crossroads Bistro, Sell It Baltimore, Bay Green Properties Group, and many more throughout the year to arrange two Thanksgiving meals, the holiday food drive, and the Crab Feast.
Thank you to everyone who made 2017 so special and record-breaking!