Thanks is in the air!
This year, PDG expanded its Thanksgiving tradition by hosting two consumer meals, one in Baltimore City and one in Anne Arundel County. PDG is happy to say both were a great success.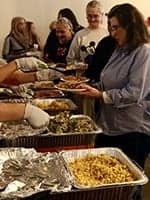 The PDG community came together across regions and departments to ensure each consumer had transportation to and from their event. PRP directors and mental health care coordinators worked long nights and early mornings to prepare homemade turkeys, traditional side dishes, and tables of desserts. PDG Therapeutics Clinician Amber Schmidt donated two turkeys to the event as well. A big shout out to psychiatric staff Morgan DeLeo, Sarah Gray, and Emily Krupa whose families went above and beyond by cooking and donating dishes as well.
On the day of, dozens of consumers and their family members attended and enjoyed the Thanksgiving feast along with their PDG staff members. To-go containers were available for everyone so no one would go home hungry. The delicious food received rave reviews!
Food wasn't the only center of attention, however; heartfelt artwork and a diverse array of talents took the stage at both events. PDG's consumers were proud to sing, play instruments, show off fine arts, and dance for their friends and PDG family. Smiles were everywhere!
Thank you to all who helped make this year special. A special thank you as well to the companies who donated to this event: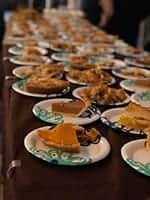 Giant
Weis
Safeway
Food Lion
Target
Wegmans
Costco
Shoppers
David's Natural Market
The Breadery
Harris Teeter
Happy holidays to all!